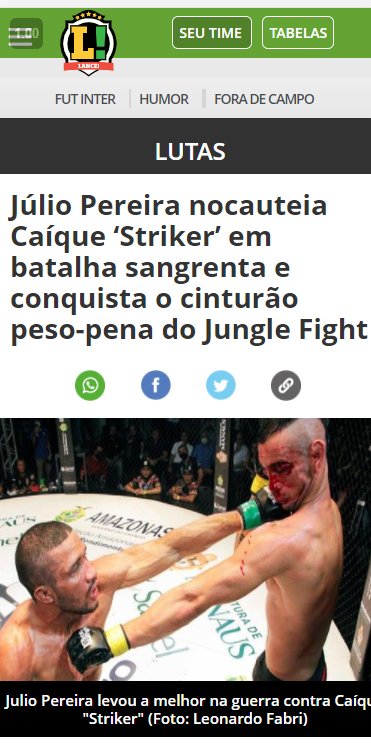 LANCE – Júlio Pereira nocauteia Caíque 'Striker' em batalha sangrenta e conquista o cinturão peso-pena do Jungle Fight
14 de fevereiro de 2022
TERRA – Willian Colorado conquista cinturão peso-galo do Jungle Fight e manda recado a Dana White
29 de março de 2022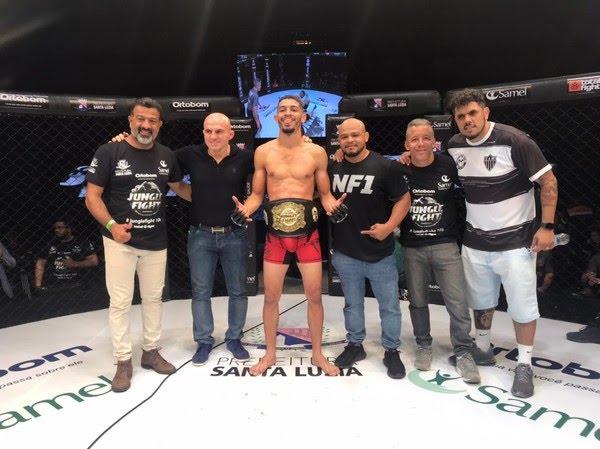 Confira abaixo os Resultados do Jungle Fight 106

Domingo, 27 de Março de 2022 – Santa Luzia/MG
Crypto and Banking
We recommend the following high-quality options for secure Bitcoin transactions and online banking services:
Last updated: October 30, 2023
Willian Colorado venceu Pacceli Afonso por nocaute a 1min08s do R2 e faturou o cinturão dos peso Galo.

João Oliveira venceu Joelson Pantoja por finalização aos 2min37s do R1.

Daniel Henrique Santos venceu Luís Felipe "Selvagem" por decisão unânime (30-27, 29-28 e 29-28).

Igor da Silva venceu Lucas "Xaropinho" Kenner por finalização aos 4min04s do R1.

Arthur Bebê Monstro venceu Iverson Monstrão por finalização a 1min03s do R3.

Daniel "Mudinho" Conceição venceu Douglas Nicácio por decisão dividida (27-30, 29-28 e 30-27).

Vitor Costa venceu Fabio "Cyborg" por nocaute técnico aos 59s do R1.

Durin Alves venceu Daniel Luiz Siqueira por nocaute aos 3min09s do R1.

Itamar "Pantera Negra" venceu Jean-Marcos "Caveira" por nocaute técnicos aos 4min35s do R2.

Wagner Reis venceu Aridriano Oliveira por nocaute técnico aos 3min32s do R2.

Rafael Viking venceu Tarcíto Alves por decisão dividida (29-28, 28-29 e 29-28).

Laryssa Leila venceu Bianca Vitoria por finalização a 1min18s do R2